Skype course
Do you want to learn to communicate well in Dutch quickly?
Your personal online Dutch teacher can guide you to better Dutch, whether you want to improve your general skills, prepare for Dutch examinations or just to improve your speaking or writing skills. Our interactive live classes are equipped to help you improve your Dutch quickly and in a fun way. You can do your lesson in the comfort of your own home, in your own office, in front of your own computer but with a real, live teacher – seven days a week!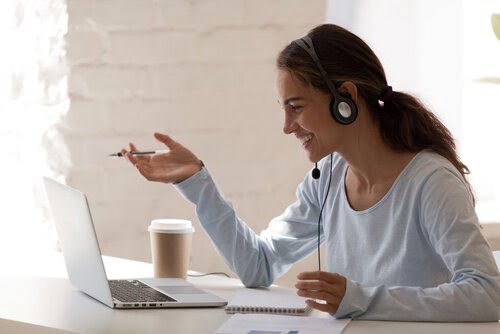 Pronunciation and grammar will always have a central role in your lessons, as it is essential to learning Dutch. What topics we focus on will depend on the reason why you are learning Dutch and what you want to get out of the course. If you are a beginner, the first lessons will focus on pronunciation primarily, however after that, we will also focus on Dutch grammar, reading & writing in Dutch and Dutch vocabulary.
Personalised Dutch tuition allows you to concentrate on language areas of specific interest. The teacher's full attention is dedicated only to you. Private Dutch lessons may be combined with our group Dutch courses if you want to make even better progress.
Teaching programme of your personal Dutch course will be fully adapted to your needs. For example, your lessons may include:
Exam preparation (Civic Integration Exam – Inburgeringsexamen)
Exam preparation (Basic Integration Exam – Basisexamen Inburgering)
Developing specific skills or language areas, e.g. grammar, vocabulary, writing or listening skills, conversation
Professional language e.g. business Dutch
Job interview preparation
Homework help
Any other language needs
Online learning
If you book our Dutch Skype course we offer you online learning for free.
How do Dutch Skype lessons work?
The same way as a face-to-face private lesson in Eindhoven, however both of us will be sitting in front of a computer. It follows the same structure as a regular tutorial, however you will receive the online lesson material prior to the tutorial.
To have Dutch lessons via Skype, you will need a good internet connection, a good quality camera, microphone, a head set and have installed and set up Skype prior to your first tutorial. You can download Skype here.
We have a wide range of online hand-outs, audio files and exercises that can be shared with you in a click.
Certificate
You will receive your certificate of Dutch Academy Eindhoven upon completion of your course.
Times and dates
Times of private Dutch lessons can be discussed and suited to your requirements. This is a good solution for busy people with flexible working hours.
Available times: from 9.00 to 21.00, 7 days a week from Monday to Sunday. To check hours currently available, please contact us.
Post-course learning
You learn a great deal in a short amount of time in our Dutch private course. Afterwards, it is essential to maintain your skills, and of course the best way to do so is to use the language often. We also offer the opportunity to continue practising the language through online learning.
[wcplpro categories_inc="110″ sku="0″ title="1″ thumb="0″ desc="0″ attributes="1″ categories="0″ tags="1″ price="1″ total="0″ offer="0″ cart="1″ globalcart="0″ qty="0″ weight="0″ dimensions="0″ wishlist="0″ gift="0″ wcplid="5a5dde78b4193″]
Online Skype Lessons | Online Dutch Course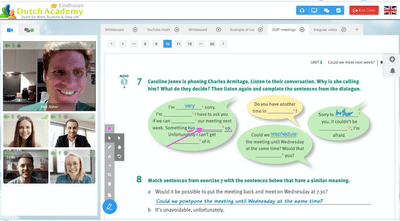 Intensive Beginners Dutch Course Online A1 level >
Duration: 11 weeks (22 classes of 2 hours each)
Hours: 44 hours (22 classes x 2 hours)
Lessons: Twice a week
Class size: 6-8-12 participants
Starting level: A0 Beginner
Materials: Book Simpel Nederlands
Online learning environment: E-learning (video, audio, online exercises)
Speaking practice: Online with our native Dutch speakers (every week)
Dutch Course Online 
Dutch Course Online A1 level
[wcplpro categories_inc="232″ sku="0″ title="1″ thumb="0″ desc="0″ attributes="1″ categories="0″ tags="1″ price="1″ total="0″ offer="0″ cart="1″ globalcart="0″ qty="0″ weight="0″ dimensions="0″ wishlist="0″ gift="0″ wcplid="5a635c376f6c7″]
[wcplpro categories_inc="110" sku="0" title="1" thumb="0" desc="0" attributes="1" categories="0" tags="1" price="1" total="0" offer="0" cart="1" globalcart="0" qty="0" weight="0" dimensions="0" wishlist="0" gift="0" wcplid="5a5dde78b4193"]