How do you choose a Dutch course?
Which course will you buy? A course of 299 or 440 euro?

A course of 299 euro, right? Let me show you why you might be wrong! I will also explain you:

How do you compare the price of Dutch courses?
Why is the number of students in your class so important for your learning?
Why is the teaching method so important for your learning?
Why are reviews of other students so important for your decision?
Why are your fellow students so important for your learning?
Where are our students working?
Why are our students learning Dutch?
16 things you should know before booking your Dutch course!
1. How do you compare the price of Dutch courses?
| Dutch Course | Dutch Academy | Another school |
| --- | --- | --- |
| Price | 350-440 euro* | 299 euro |
| Lessons | 22 | 10 |
| Duration lesson | 2 hours | 2 hours |
| Totaal hours | 44 hours | 20 hours |
| Price per hour | 8-10 euro  | 14,95 euro |
2. Why is the number of students in your class so important for your learning?
*We offer a very affordable price between 7,9 and 10 euro per class hour (your discount depends on when you book)! But still, the price should not be your main reason to join a Dutch Course! Why? Let me explain it you!

Why should the price not be the main reason for your decision?

Always check the limit of students per class. In many other schools they have 15 students in one class, hence the price can be lower. "So what?", you might think.. I can tell you as a teacher that you will receive less attention from your teacher during the speaking exercises in your class. There will be just no teacher available to correct your mistakes because the class is too full to help everyone. Please read this Dutch word: chauffeur. Do you pronounce it correctly? Are you not sure about it? Exactly! You need a teacher to correct your pronunciation. When there will be no teacher available, you will be making mistakes and you will even never know you are making them. Your teacher should not have too many students so he has time to help you personally. That's why we have a maximum of 12 students per class. Our students are always exercising in pairs of 2. In this case, I, as a teacher, have only 6 pairs so that I can track the speaking exercise of everyone. In the class of 15, it would not be possible.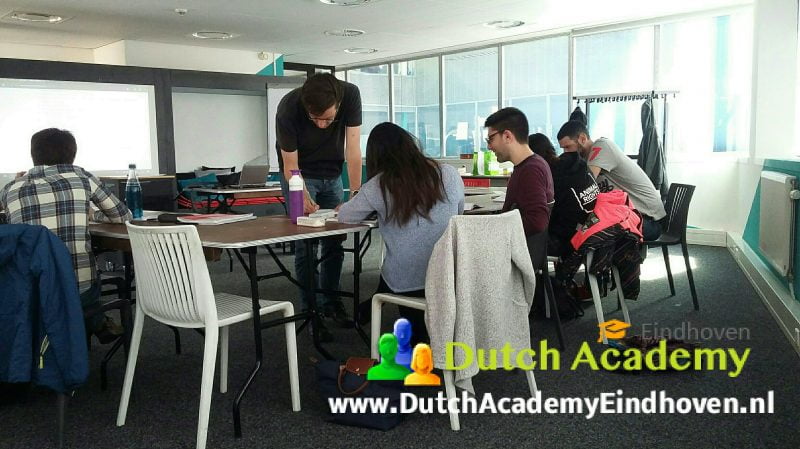 If all my language courses in the past would have this kind of an approach of teaching, I would be fluent in many languages by now! Very intensive course with a lot of additional study materials. Groups are small, both of the teachers are super nice, helpful and they really try to explain to you in that way that you understand. The most important, they encourage you to use the language in everyday situations. I am really looking forward to attend A2 level in December!
3. Why is the teaching method so important for your learning?
Learning Dutch in a Dutch course is an investment in yourself, your career and future. This is not only an investment of your money but also an investment of your time and energy. You can learn a lot in a short period of time in our Dutch course. Our courses are designed on speed and efficiency of learning. Our students are saying that we offer "the best value for your money".  We offer only high-quality Dutch lessons. Our Dutch courses are developed and divided into A1, A2 and B1 levels according to CEFR standard (Common European Framework of Reference for Languages).  We make sure that our students get all knowledge they need to keep the development of their Dutch language in the future.

Why are some people paying twice?

We regularly receive applications of students from some other schools. They finished their A1 level there and want to enroll in our A2 level. Unfortunately, we see al lot of gaps in their knowledge due to the quality of their previous courses. These students were not be able to achieve their A1 level yet. These students can not be admitted to the A2 level with us and can enroll only in our A1 course. It means they have to take the A1 level course and pay again for their A1 Dutch course. These students have to pay twice. They are spending 650-750 euro for their A1 level because they want to speak and write correct Dutch. Especially when you think you may need Dutch in your future you need to think twice before you book a Dutch course. You want to make sure that your colleagues understand what you are saying or writing without smiling or laughing. You know what I am talking about, do you? If English is not your first language, you will understand what I mean. So even if you have saved 100 euro on a cheaper course today, you will spend twice more money in the future. Here is a review of our ex-student Sadia who finished her Dutch course at another school:
I'm very happy to have found Dutch Academy Eindhoven. I had taken a previous course elsewhere and thought learning Dutch would be impossible as it all seemed too complicated, but our teacher did such a wonderful job at making the information understandable and digestible. I'm very happy to have signed up, and would happily take a course with them again! Can highly recommend!
4. Why are reviews of other students so important for your decision?
If you buy a new car, you want to know if it good, right? You want to make sure you will not be disappointed later. You want to know if the car will meet your needs and expectations. How are you going to get this information? You will probably ask other people who already have experience with this model of the car. In the same way you can decide if our Dutch Course is the right course for you. You can find more than 70 reviews of our students on our website and more than 30 reviews on Google.
I found an information about Dutch Academy of Eindhoven by google search and I am very satisfied with my choice. I was thinking that Dutch is a very difficult language and I will not be able to learn it, but thanks to the excellent explanation of my teachers, for me learning of Dutch became fun and easy. Thank you very much teachers Philippe & Maurice for explaining very difficult things in an easy way. I recommend to start learning of Dutch with Dutch Academy of Eindhoven.
5. Why are your fellow students so important for your learning?
I regularly receive applications for private lessons from students from other schools. I usually ask why they want private classes? I often get an answer that they have studied the Dutch language at some other schools and ware not satisfied with their group's courses. I ask them to tell me what they were not satisfied with?

Why do people get disappointed after their Dutch course?

1. Not all the students in their group could speak English well.

Maria told me this: "I tried to learn Dutch at another school. Some students were only able to speak a little English and a little Dutch. Everyone was admitted to this course without any filtering. The communication between students (and the teacher) was difficult as well as doing exercises in the class. I just could not fully participate in the lessons because of that. It was a very frustrating experience.."

At Dutch Academy Eindhoven we make sure that every student speaks English well. Every student has to pass our placement test in order to be admitted to our Dutch course.

2. Not all students had the same level of Dutch in A2 and B1 courses.

Some schools allow everyone to book their courses without any testing beforehand.

Javier told me this: "I booked my course at another school. I was in an intermediate group with some students with a very little knowledge of Dutch language. The level differences in our group were way too big. Some of my fellow students were just beginners. I just did not understand what they were doing in our course as we could not exercises together. We did not have any testing before booking of our course. It just did not work for me! Wasted time and money!"

At Dutch Academy Eindhoven we have our own Dutch Placement Test. Our Dutch Placement Test ensures that new students will enroll in the Dutch course that best suits their level of ability and that students share similar knowledge in any given Dutch course. It, therefore, helps make our Dutch classes an enjoyable experience for both the student and the Dutch teacher.

3. Not all students have the same level of education.

Highly educated people are used to handle a lot of information. Dutch courses specially designed for Highly educated people have a faster pace and a bigger workload. This is not suitable for everyone. After a few lessons, you will see huge differences in the progress of your fellow students. Some people feel like they are wasting their time with weaker students during speaking exercises.

Our Dutch courses are specially designed for Highly educated people. At Dutch Academy Eindhoven we make sure that every student has higher education in order to create an efficient learning and exercising environment for every student in our Dutch classes. As an exception, we also allow students from TU/e and Fontys universities to participate in our Dutch courses.
Why did you choose our Academy?
I've always been very quick to learn which normally makes me having to wait for other people in the class to catch up. In your school, not only it seems I will have colleagues at the same level of mental ability, the method seems also consistent with a fast learning goal. In sum, perfect for me.
Students of Dutch Academy Eindhoven
6. Why are our students learning Dutch?
For their Future Career and Job
67%
To pass the Civic Integration Exam and stay in the Netherlands
21%
To communicate with locals, Dutch colleagues and authorities
12%
7. Where are our students working?
16 things you should know before booking your Dutch course!
Let me send you a checklist of questions you should ask before you are going to decide what course to choose. It will help you to save your money, time and make the right choice!

What are your name and email address? You will get the checklist in your inbox within 30 seconds. Please check your spambox!
Get the checklist of 16 questions you should know!