Our building is temporarily closed due to the Coronavirus but we are NOT closed!
Due to the COVID-19 restrictions from the Dutch government, Dutch Academy Eindhoven is currently not organizing any face-to-face classes.
For the coming time, you are going to have your lessons in our Virtual classroom via the internet.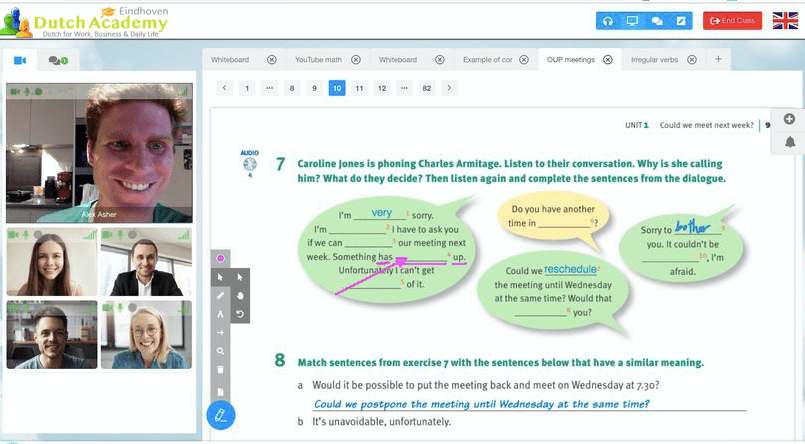 Intensive Dutch Course Eindhoven
Beginners
A1 Level
22 lessons
11 weeks/44 hours
10-12 participants
Intensive Dutch Course Eindhoven
Semi-Intermediate
A2 Level
22 lessons
11 weeks/44 hours
8-10 participants
Intensive Dutch Course Eindhoven
Intermediate
B1 Level
18 lessons
18 weeks/36 hours
8-10 participants
Our students working/studying at
What our students saying about our Dutch courses?
Prima! Definitely, it is the best Dutch course in Eindhoven. For me, only this one works. Finished A1 Step 1 and I am going to continue with next Step 2. Highly recommended!
I completed course A1 Step 1. I found the class to be beneficial and helpful in the improvement of the Dutch language. The classes were engaging, entertaining, and had an interesting yet effective system for the Huiswerk (homework), using a mix of online sources and the text book. I found having two lecturers to be an additional benefit as well.
Very dynamic classes, with a lot of interaction between colleagues and teacher, and with diverse materials (digital and print formats). I really enjoyed it and I totally recommend it!
I have done several different courses in Dutch, but this one seems to be working! What I like the most about the course is the playful, yet professional way how both teachers onboard you on the language journey, it is efficient and memorable. Also doing homework and repeating what has already been learnt is very helpful. I recommend this course to anyone who would like to try to learn Dutch.
Dutch Academy Eindhoven | Dutch Courses Eindhoven
You live or work in the Netherlands and you would like to learn Dutch? Then Dutch Academy Eindhoven is the place to be! At Dutch Academy Eindhoven you can learn Dutch for work, for citizenship requirements, for study or for other reasons. You can rapidly improve your Dutch skills with us at Dutch Academy Eindhoven. At our Dutch course, you meet like-minded individuals from foreign countries who will join you in the challenge of learning a new language!
Our secret to effective teaching and student success begins with our small class size. Our class size ranges from 6 to 12 participants, which enable teachers to maximize their attention on the individual student while guaranteeing them a dynamic learning environment. The content of our Dutch courses is tailored to you and is as close to one-to-one training as you can get in a group. We deliver results based on your goals and provide you with a memorable experience and clear outcomes. Our main goal is to help you reach your goals and give you the opportunity to learn in an agreeable and friendly atmosphere.