Intensive Dutch Course Online
We are online! Learn Dutch fast in an easy way. We've made Dutch easy! Speak Dutch in 11 weeks!
I'm very happy to have found Dutch Academy Eindhoven. I had taken a previous course elsewhere and thought learning Dutch would be impossible as it all seemed too complicated, but our teacher did such a wonderful job at making the information understandable and digestible. I'm very happy to have signed up, and would happily take a course with them again! Can highly recommend!
Is this Dutch Course for you?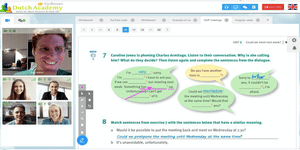 Virtual Classroom of Dutch Academy Eindhoven

If all my language courses in the past would have this kind of an approach of teaching, I would be fluent in many languages by now! Very intensive course with a lot of additional study materials. Groups are small, both of the teachers are super nice, helpful and they really try to explain to you in that way that you understand. The most important, they encourage you to use the language in everyday situations.
The best option for learning Dutch is Dutch Academy. They teach Dutch in a simple way. Teachers have really passion to teach you and it is not just about teaching Dutch, they also work on your confidence to speak Dutch! I am really satisfied with this course!
This Dutch Course is for you if:

you want to learn a lot in a short period of time.
you want to learn Dutch well for your job or future.
you have time to study Dutch.
you know why you want or need to learn Dutch.
you want to practise Dutch speaking every week.
you want to learn how to speak and write Dutch well.
We offer you our proven unique method to give you the best Dutch learning experience. You can also boost your confidence in our student-centered Dutch classes. The method started its development in 2013 with a main goal: to learn Dutch fast in an easy way. During the past years we have developed our method further to one of the best learning and teachings methods of the Netherlands.

Simple Dutch is for all students who want to speak Dutch confidently and naturally. This will help you to understand and feel comfortable in native Dutch-speaking cultures.

To help you do this, our classes focus on speaking, writing and grammar skills. Our method makes Dutch grammar visual and simple to understand so you can learn Dutch language in easy way and progress fast.
This Dutch Course is not for you if:

you do not have time to learn Dutch.
you do not want to do any homework.
you do not want to practise Dutch speaking every week.
you do not know why you are learning Dutch.
you dislike learning new difficult things.
you are not committed and motivated to learn Dutch.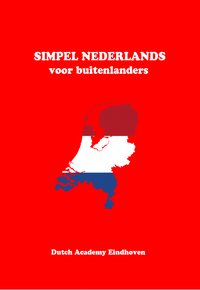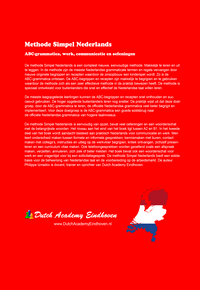 The course is very well organised and the material is nice. The teaching is also outstanding. I loved the book, it is the reference any Dutch learner needs, and it includes a lot of exercises too. I highly recommend this course!
Our Intensive Dutch Course consists of 3 parts:

Dutch Lessons with our Dutch teacher every week
Speaking Practice with Native Dutch speakers every week
Online Learning (Homework) every week

Our Native Dutch speakers are online every evening except Saturdays and Sundays.
Start learning Dutch Today!
You do not have to wait until the start of your course! We have an online library of Dutch study materials for our students. You can access it via our Student Dashboard. You will gain access to the Student Dashboard directly after your payment so you can start learning Dutch with videos, audio, books, flashcards, vocabulary lists or speaking to our Native Dutch speakers!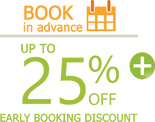 Book your Dutch Course in Advance and get our Early Booking Discount! The price goes UP after Every Booking!
I highly recommend this course. Teaching approach is very structured and enjoyable which makes learning Dutch fun and easier than it is. I especially find it very useful to work with "formulated" way for Dutch grammar, helped me a lot!
The lessons in Dutch Academy are most importantly friendly and enjoying. We were not stressed and feel that we are in a serious lesson. Learning was easy because of the teachers special style of wording for the Dutch grammar and teaching. I recommend the course to anybody who really wants to learn 'to speak and understand' Dutch.
I totally recommend this course, it was very well spent money and a great start to know the language, classes were enjoyable and you learn a good basis in grammar to start increasing your vocabulary.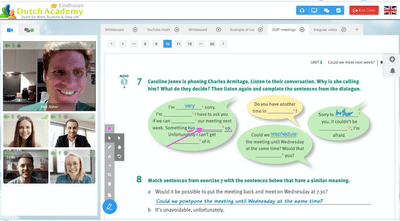 Intensive Beginners Dutch Course Online A1 level >
Duration: 11 weeks (22 classes of 2 hours each)
Hours: 44 hours (22 classes x 2 hours)
Lessons: Twice a week
Class size: 6-8-12 participants
Starting level: A0 Beginner
Materials: Book Simpel Nederlands
Online learning environment: E-learning (video, audio, online exercises)
Speaking practice: Online with our native Dutch speakers (every week)
Dutch Course Online 
Dutch Course Online A1 level