Dutch Course Eindhoven B1 Level Civic Integration exam (State Exam NT2-I)
This course is 2 in 1 bundle. Dutch Course B1 Level Civic Integration exam is a general B1 level Dutch Course with an additional module Civic Integration exam (State Exam NT2-I). At the end of this course you can achieve B1 level and prepare yourself for State Exam NT2-I. The State Exam Dutch as a Second Language (Nt2: Nederlands als tweede taal) is the official language proficiency exam for non-native adult speakers, that want to be able to prove their level of proficiency in Dutch. The Diploma State Exam Nt2 is officially recognized by the Dutch government.
There are two main reasons people take the State Exam NT2-I:
1. to be able to study in institutions or work in companies that require a certified level of Dutch.
2. to fulfil the requirements for a Dutch residence permit or Dutch citizenship (the Inburgeringsexamen).
Intermediate B1 level Dutch course
In this Dutch course, you will improve your communication skills and learn all necessary grammar for B1 level. The main objective of this course is to learn to communicate in Dutch. All skills are developed: speaking, listening, reading, and writing. To this end, attention is given to such matters as speaking, grammar, vocabulary, pronunciation and writing correct sentences. Note, modern communication in Dutch companies takes place at least for 50-70% by writing e-mails (and not by speaking!). You have to develop your formal writing skills. Reading and listening skills are mostly practised in the time allotted for self-study. Our approach utilizes interactive lessons and teaching materials that provide visual support, emphasizing rapid learning and comprehension of the Dutch language. The course conducted primarily in Dutch. Our teacher is both fluent in Dutch and English. He will use English when it is necessary to explain difficult topics.
Dutch Civic Integration exam module (State Exam NT2-I)
Dutch Civic Integration exam module is for anyone who wants to prepare for the Civic Integration Exam (State Exam NT2-I) in a fast and accelerated way. In this module you will follow the five parts of the exam; reading, listening, writing, speaking and KNM. The KNM part is 'Knowledge of Dutch Society' is self-learning under the guidance of the teacher. During this module, you will practise with mock exams Speaking, Reading, Listening and Writing. We will give you the tools you need to pass the exam with success. We will also provide some practice test materials for your Civic Integration exam and all information about examination fees, exam locations, rules and registration you need.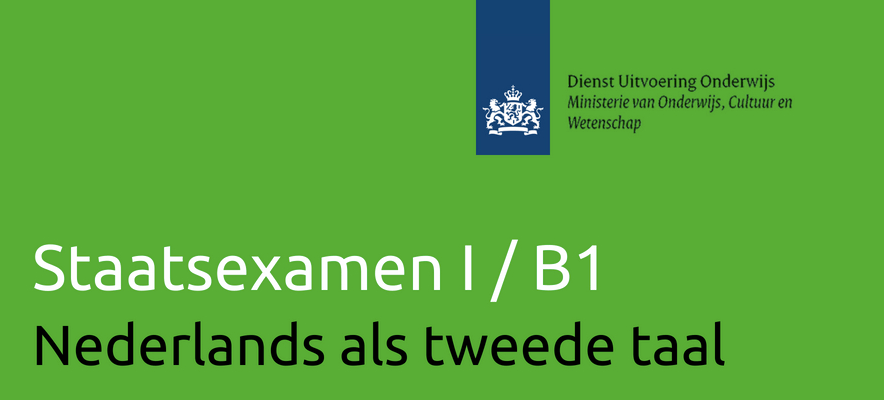 Intensive 2 in 1 bundle
Please note, this 2 in 1 bundle is a very "Intensive" course which requires your additional time and effort. It consists of Dutch lessons with our Dutch teacher, e-learning, weekly Speaking Practice with our Native Dutch speakers and self-learning. It is your responsibility to schedule your own time for all of these necessary learning activities. We offer both online and courses at our location in Eindhoven. You can take this course online or offline.
Certificate B1 level & Diploma of the State Exam Nt2 (Staatsexamen NT2)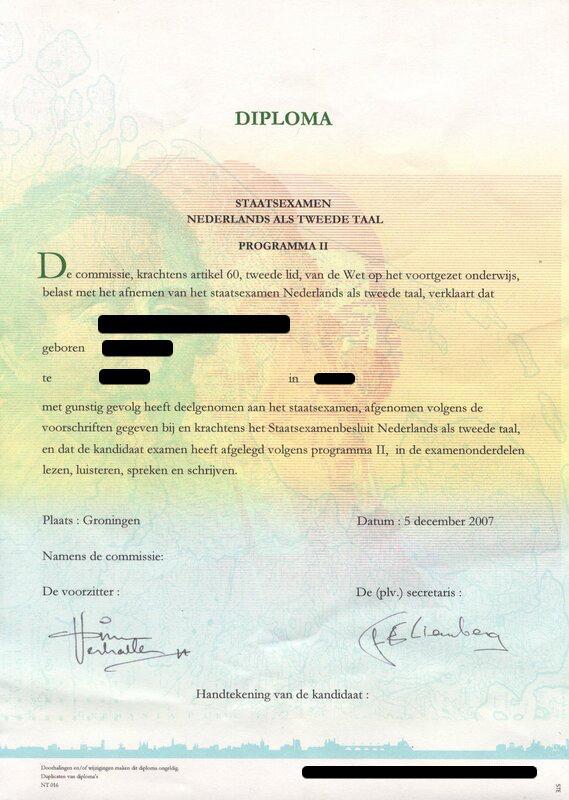 The course concludes with a final test. When you complete your Dutch course, you will receive a certificate of Dutch Academy Eindhoven. To get the Diploma State Examination NT2 (Staatsexamen NT2) you have to pass the exam at the government office 'DUO'. You are not eligible to request a DUO loan for our courses.
Course information
Group D: Download Dutch Course Planner >
Start: 9 Sept 2023
Course days: Saturday | 11:15-13:15
Location: Catharinaplein 21, 5611 DE Eindhoven. Dutch Academy Eindhoven (Dynamo building)
Dutch course: Intermediate B1 level >
Duration: 18/22 weeks*
Lessons: 1x week
Hours: 36-44 hours (18/22 classes x 2 hours)*
E-learning: 100-150 hours
Starting level: A2 level
Materials: 3 books (not included)
Speaking practice: Additional Online Speaking sessions with native Dutch speakers (every week)
* 18 weeks (18 classes of 2 hours each) if there will be no more than 8 participants (bookings)
* 20 weeks (20 classes of 2 hours each) if there will be 9-10 participants (bookings)
* 22 weeks (22 classes of 2 hours each) if there will be more than 11 participants (bookings)
Usually we have 12 bookings.
Our Intensive Dutch Course consists of 3 parts:
1. Dutch Lessons with our Dutch teacher every week
2. Speaking Practice with Native Dutch speakers every week*
3. Online Learning (Homework) every week
*Our Native Dutch speakers are online every evening except Saturdays and Sundays. If you already speak a little of Dutch, you can start practising this week!
What our students are saying?
Hybrid class (Online and Face-to-face together)
Any plans for traveling? No time to come to the classroom? Became ill? Can't make it to class on time? Want to stay home? No problem! This is a hybrid course! You can join our Dutch classes online from anywhere in the world, or come to our classroom in Eindhoven!
What is a hybrid class? Online and Face-to-Face students will be merged in a hybrid course (online and offline students following the same lesson in one class at the same time). It means that some students will be participating from their homes and some of them will come to the class. The maximum number of participants is 12 (online + offline students).
Online and offline students will be able to participate equally in the lessons and get exactly the same amount of attention from the teacher. The only difference is that you will be staying at home or sitting in the classroom.
You have the freedom to try both the online format and the face-to-face lessons (to see what works best for you) during the course, as long as you notify us in advance.
Join us! Start learning Dutch Today!

You do not have to wait until the start of your Dutch lessons with our teachers! We offer a free online pre-course for our students! You will gain access to it directly after your booking, so you can start learning Dutch with video lessons, audio, flashcards and vocabulary lists. You can always cancel your booking without any reason up to 2 weeks before the beginning of your course, completely free of charge! Just email us, and we will provide you a 100% refund within 48 hours!
See you soon! Your teacher Philippe